This article is a website version of our weekly FREE Best Ideas Newsletter sent on 29.08.2023. Sign up here to get it in your inbox every Tuesday.
The Momentum and Price to Book investment strategy beat the market by over 1100% in our 12-year back test in Europe from June 1999 to June 2011.
We thought it's about time that we update it.
This is how the original 2012 backtest performed
To refresh your mind, here are the results of the June 1999 to June 2011 back test: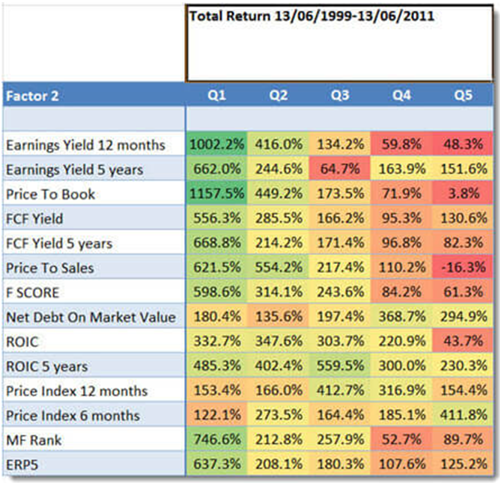 Source: What Works on European Markets
Momentum + Price to Book investment strategy update
We updated the back test using the Quant Investing stock screen back test function. It only has data going back to December 2015. This means there is a gap of 4.5 years between the two back tests.
We thought testing it over the seven years from 2016 to 2022 will still give you a good idea if it still works.
Click here to all the results…
Quant Value newsletter update
The portfolio managed last week's volatility very well, with companies in Asia more than making up for the weak performance in Europe.
In the US Celestica Inc. continued its great run now up over 100% since May!
Overall performance still looks good:
North America +15%
Europe +6%
Asia +23%
Crash portfolio (2022) +30%
If these ideas sound interesting, you can get more information here: Your Treasure Map 🌎 to Europe, Asia, and North America's Hidden Gems 💎!
Shareholder Yield Letter update
Since May when we started the 16 ideas have already paid an average dividend of 0.6% and am still sitting on an average return of 1.5% after the pull back in the markets last week.
If this sounds like the kind of companies, you would like to invest in you can find more information here: 🔍 Unlock the Power of Shareholder Yield! Subscribe now and transform your portfolio with the best large cap strategy ever
Your, helping you find the best strategy analyst
PS To find great companies that exactly meet your investment strategy right now click here.
PPS It is so easy to forget, why not sign up now before you get distracted?
Fresh Content 📖
Why Japan is the Hidden Gem of Global Investing 💰
How to best use the screener's company alert function
Hunting for high yield tobacco stock bargains
In Case You Missed It 👀
Quant value newsletter 13-year performance to June 2023
How to best get started with the Shareholder Yield Letter