The best large cap investment strategy ever
Dear Fellow Investor
"I really like the Quant Value newsletter, but it is REALLY hard to buy the companies!"
This was comment we got the most about our other newsletter.
Subscribers loved the strategy of buying small, undervalued quality companies worldwide but there was a problem. Few brokers offered all the companies as some had a market value under $100 million in markets like Japan, Singapore, and Hong Kong.
Looking for a great large cap strategy
With this in mind, we set out looking for an easy to implement large cap investment strategy with a great market beating record.
You know large cap stocks are researched by most fund managers, so it is not easy to find a strategy that beats the market.
But we kept on looking and testing.
Stumbled onto Shareholder Yield
When we first heard of the Shareholder Yield, we were not impressed.
It was a large cap strategy based on such a simple idea we did not believe it will work.
As you may know the idea behind shareholder yield is to buy the companies that returned to most cash to shareholders. The return is measured as dividends plus share buybacks.
We kept on seeing great returns
The more we searched the more we saw research by well-known investors saying that even they were surprised about the strategy.
The strategy was so good that James O'Shaughnessy did an 80 year back test and found that it had a 97% chance to outperform the market.
We were impressed! (Remember less than half of all fund managers outperform the market)
Show me any other strategy like that.
Here is a summary of that back test: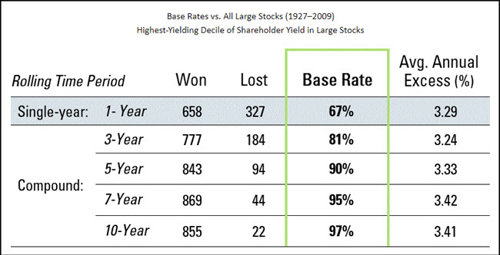 Source: 7 Traits for Investing Greatness by Jim O'Shaughnessy (80-year (1927–2009) back test of the shareholder yield investment strategy)
The idea started forming
After reading that an idea started forming.
In order to give the strategy an even greater chance of beating the market what if we use it on a great group of companies – investment universe – that already has a high chance of outperforming the market.
We immediately thought of the Market Leaders investment universe that James O'Shaughnessy developed and tested in his terrific book What Works on Wall Street.
Market Leaders are large companies on steroids
Market leaders are large cap companies on steroids. James defined them as non-utility companies with larger than average:
Market value
Number of shares outstanding
Free Cash flow and
Sales above 1.5 times the average of the universe
We of course tested it
After we came up with the idea, we tested it to see if it really works.
So, we tested the Shareholder Yield investment strategy, applied to the Market Leaders investment universe, to see if it really works.
And the results left us amazed to say the least!
Here is a brief summary: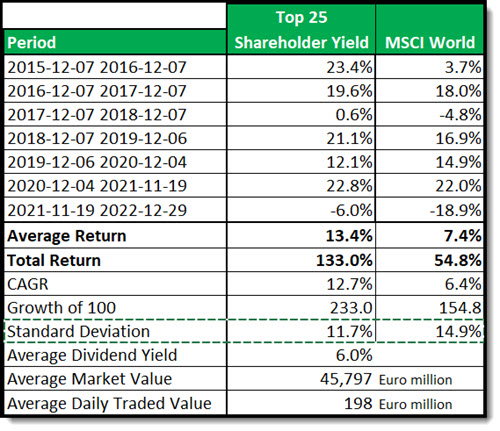 Click image to enlarge
I'm interested, Click Here to sign up!
Comments on the above chart
#1 Only 1 negative year
As you can see there was only one negative year and it was a LOT less than the index, which had two negative years.
#2 High dividend yield of 6%
The average dividend yield of the strategy 6%, so it is also an incredibly good income strategy, for your retirement.
#3 Average market value €45.8 billion or $50 billion
The average company size is massive, over €45 billion ($50 billion). This makes the companies extremely easy to buy also with your current broker and your tax-free account.
#4 Average traded value €200 million or $210 million
The daily traded value is also huge, just under $200m per day. This means easy, fast order execution with a low bid-offer spread. No more limit adjustments as the price runs away or expensive orders executed over days.
What you can expect from the Shareholder Yield Letter
We want this newsletter to give you great returns while taking up as little of your time as possible.
Each month we give you only the information you need to quickly build up a diversified, high performance, large cap, investment portfolio.
We will not waste your time
The newsletter will not waste your time telling you what the market has done, or what it is going to do - nobody knows that.
The newsletter simply gives you the most essential information you need – what to buy and sell.
All you must do is log into your brokerage account (or call your broker) and follow the easy-to-follow instructions - they are all on the first page.
This means managing your own successful portfolio will not take more than half an hour per month.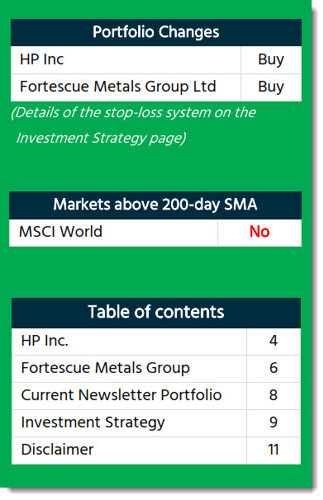 Front page recommendations – example
I'm interested, Click Here to sign up!
Two rules keeps losses REALLY low
Worried about losses?
Don't be, the newsletter follows two rules that keep losses to a minimum!
#1 It follows a STRICT trailing stop loss system that automatically gets you out of losing investments while letting your winners run.
#2 It stops buying when markets are falling. This may sound simple but hardly anyone does this.
These rules give you great returns, while keeping your losses low.
Results have been great
Here are some of the best yearly returns from the back test.
We know they are past returns you cannot profit from, but it gives you an idea of returns and the type of companies the strategy comes up with:
BHP Billiton plc 78.0%
Wm. Morrison Supermarkets plc 54.4%
The Boeing Company 82.9%
Qantas Airways Limited 63.3%
CenturyLink, Inc. 23.9%
Pearson plc 23.8%
Applied Materials, Inc. 68.3%
Celgene Corporation 54.5%
QUALCOMM Incorporated 88.1%
Royal Mail plc 51.7%
Oracle Corporation 56.7%
Bank of America Corporation 55.0%
BHP Group 42.5%
Fortescue Metals Group Limited 40.4%
We are of course not always right
There were also ideas that did not do well (you know that you cannot win them all) but they have been in the minority.
This is exactly how it works
Before you invest your hard-earned cash in the newsletter, I am sure you want to know exactly where ideas come from.
We would if we were in your shoes.
That is exactly what the following two flow charts show you.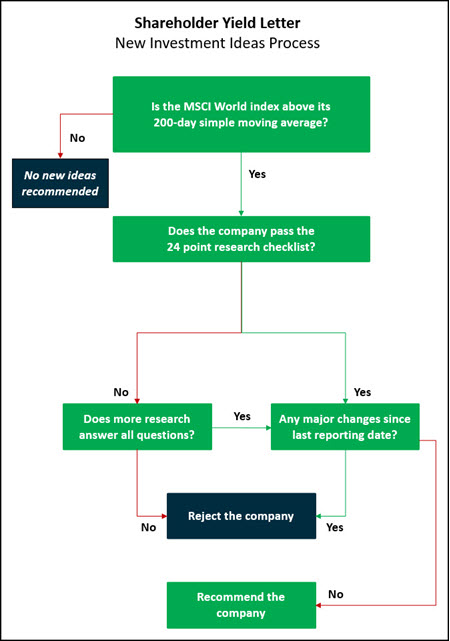 Click image to enlarge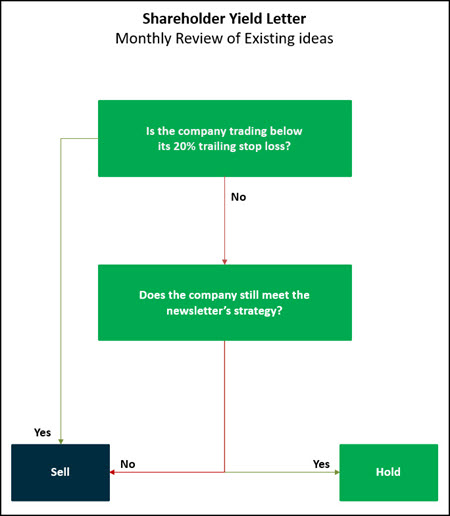 Click image to enlarge
Only thing left for you to do
We have showed you exactly why and how the Shareholder Yield Letter beats the market, the only thing you have to do to get this market beating strategy working in your portfolio is to take two minutes and subscribe.
It costs less than an inexpensive lunch for two and if you do not like it, you get your money back – no questions asked.
PS It is so easy to put things off and forget, so why not sign up right now while it is still fresh in your mind.