This article is a website version of our weekly FREE Best Ideas Newsletter sent on 11.04.2023. Sign up here to get it in your inbox every Tuesday.
A few subscribers asked me how I found the quality, high yield tobacco stocks I bought so this week I am going to show you how.
You can of course use the screener of your choice but in this example I used the Quant Investing stock screener, the one I use to invest my own money.
Select the sector
I started by selecting the industry sector I was looking for, in this case Tobacco to get a list of companies.
You can select one or more sectors depending on the type of companies you are looking for.
Select the output columns
As I was looking for high yield ideas, I selected the following output columns:
Shareholder Yield - Much better than Dividend Yield if you are looking for high yield ideas
FCF Yield – To see if the high yield can be maintained over time
Dividend Yield – To see how much cash you get back now
Country – This is important to see how much withholding taxes you have to pay. For example, the UK and Hong Kong has no withholding taxes.
(Shareholder Yield is also the ratio we use to get ideas for the Shareholder Yield Letter)
The screener output
This is what the output, sorted by Shareholder Yield, looks like: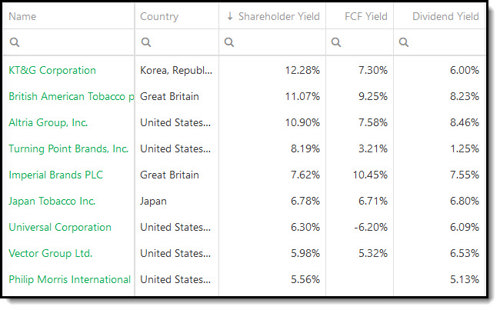 Source: Quant Investing stock screener
A few comments on the list:
The highest yielding company is the South Korea. Even though it only paid out a 6% dividend it bought back more than 6% of its shares outstanding to give it a Shareholder Yield of over 12%.
British American Tobacco looks attractive with a Dividend Yield of over 8%. It looks sustainable, and can possibly be increased, as its FCF Yield is higher than that at over 9%!
Altria's FCF Yield is below its Dividend Yield which means it must take on debt to pay a part of its dividend. This may become a problem if it continues.
Imperial's high FCF Yield looks attractive even if its dividend yield is lower as this means the dividend can be increased. Most likely the company is using the cash to repay debt. 
Universal Corporation is not attractive as its dividend is not covered by cash generation.
Philip Morris' FCF is missing, this means the Cash Flow Statement has not been published or updated yet (this sometimes happens with quarterly reports). If you see this just check back a week or more later and the ratio will most likely be updated.
It is as easy as that
That is how easy it is to find quality high yield ideas. I hope you have found it helpful.
Your analyst helping you get the highest yield
PS To find great quality high yield companies right now click here.
PPS It is so easy to forget, why not sign up now before you get distracted?
📖 Fresh Content
Best Price to Book Piotroski F-Score stock ideas for 2023
Best O'Shaughnessy Trending Value Investment ideas for 2023
In Case You Missed It 👀
Best EBIT to Enterprise Value Momentum stock ideas for 2023
Magic Formula investment strategy back test (2022 update)
Best Free Cash Flow Yield stock investment ideas for 2023