Do you hate price driven stop-loss rules?
If you do you are most likely a hard core value investor. Here is a great alternative suggested by a friend and long-term subscriber to the stock screener.
It lets you limit your losses when the business starts going bad. And best of all it needs little or no research, and you can get it emailed to you.
Inspired by Warren Buffett
My friend got the idea from an article where Warren Buffett mentioned that he did not care what had happened to a company's share price as long as the company was still doing well.
Warren got this idea from Philip Fisher that only sold investments for operational reasons.
The fundamental stop loss
So how can you easily find out if a company's operations are deteriorating without doing a lot of research?
My friend does this by selling an investment if the company's Piotroski F-Score falls below 5.
Click here to start using a fundamental stop loss now!
What is the Piotroski F-Score
The Piotroski F-Score is calculated with the following nine ratios:
Profitability
1. Return on assets (ROA)
2. Cash flow return on assets (CFROA)
3. Change in return on assets
4. Quality of earnings (accrual)

Funding

5. Change in gearing or leverage
6. Change in working capital (liquidity)
7. Change in shares in issue
Efficiency

8. Change in gross margin
9. Change in asset turnover
How the Piotroski F-Score is evaluated
Best or high Piotroski F-Score = 8 or 9
Worse or low Piotroski F-Score = 0 or 1
Measures financial health or fundamental momentum
As you can see, the F-Score is an excellent way to measure the fundamental health of your investments.
You can read more about the Piotroski F-Score (including how it is calculated) here: This academic can help you make better investment decisions – Piotroski F-Score.
To find out just how well the Piotroski F-Score works look at this article: Piotroski F-Score back test
Where to find the Piotroski F-Score
In the Quant Investing stock screener the Piotroski F-Score is updated daily so as soon as possible after a company posts results, including quarterly and half year results. This makes it really easy for you to get an up to date Piotroski F-Score value of all the companies in your portfolio.
You simply search for the name of the company (click on magnifying glass icon) to immediately see its F-Score.
In the image below I called up the F-Score of Microsoft.

Click here to start using a fundamental stop loss now! 
Find only good Piotroski F-Score companies
It is just as easy for you to only get investment ideas of companies with a healthy Piotroski F-Score.
In your favourite stock screen simply add Piotroski F-Score and with the slider select ideas with a good Piotroski F-Score.
In the image below shows you how to select companies with a good F-Score from 6 to 9.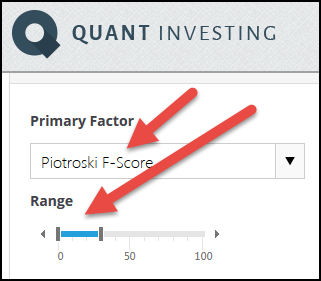 How to get the F-Score emailed to you
To make it as easy as possible to track the Piotroski F-Scores for the companies you follow we have developed an email function where you can save a portfolio and get the F-Scores  emailed to you.
You can see exactly how to do this here: How to track your portfolio with automatic updates of closing prices and ratios.


PS To get the Piotroski F-Score working in your portfolio right now sign up here
PPS It is so easy to put things off and forget why not sign up right now?