This article is a website version of our weekly FREE Best Ideas Newsletter sent on 25.07.2023. Sign up here to get it in your inbox every Tuesday.
Will the Magic Formula still work going forward? Do I need to add another indicator to get it to work again or improve returns? – a subscriber asked.
Two good questions!
No one knows or can know this
The thing is NO ONE, and I repeat NO ONE knows what strategy is going to work best.
Nobody tells you this, especially not the person trying to sell you the "best" strategy (let's call it a shiny thing) that is going to beat the market. A LOT!
All their writing and charts prove this of course. But as convincing as it may sound, they also don't know.
Ignore the shiny thing
This may sound disappointing, but it isn't.
It means all you must do is:
Ignore the shiny thing
Find a strategy you like with a great track record – Examples here: Best strategies we have tested
Implement it in a systematic way
Relax and stick to your strategy
Back to the Magic Formula
Getting back to the Magic Formula. Is it a good strategy? We think it is.
The book was so good it convinced me to become more of a quantitative investor. We did a lot of research on it and put together an article of all the back test we could find. You can read it here: All the back tests on the Magic Formula.
In another test we found that if you add one ratio it improved the return of the magic formula by +600.5% over 12 years. 
Is it the "best" strategy?
So, is the Magic Formula the "best" strategy you can use?
It may be, we just don't know. I prefer the investment strategy we follow in the newsletter, but we cannot be sure what will be the better strategy.
Both will do well. Because they are built on sound investment ideas that have been thoroughly tested.
 Here is an article that can help you if you haven't found your investment strategy yet. How to find your best investment strategy – not the one you expect.
Keep your losses small
To stick to your strategy, you must keep your losses small. That is why we recommend that you use a trailing stop loss. Here is all our research on it: Truths about stop-losses that nobody wants to believe.
For instructions on exactly how to implement it, go to the bottom of the article
Notes and Alerts added to the screener
A quick note for screener subscribers.
You can now write a save a note on all the 22,000 companies in the screener.
To add a note click the company name and click in the text box – see screenshot below
For example, here is my note on Apple Inc.:

Screener company note example
Add an alert on 110 ratios
You can now also add email alerts on all 110 ratios and indicators in the screener.
For example, here are the price alert options for Apple Inc.: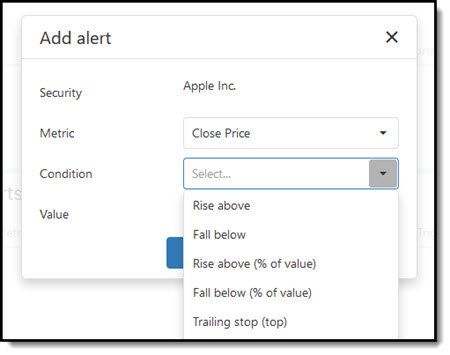 Screener price alert options
If an alert is triggered, you get an email that includes your notes. This is a great reminder on why you set the alert and your thoughts on the company.
Your analyst helping you find your best strategy
PS Does the screener sound like something that can help you  – now with notes and alert! To sign up now click here.
PPS It is so easy to forget, why not sign up now before you get distracted?