Our first book Quantitative Value Investing in Europe: What Works for Achieving Alpha has just been published on Amazon.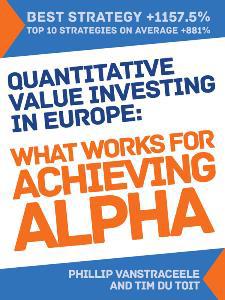 In comparison with the USA there have been relatively few studies conducted on what works in investing in the European stock markets.
With this paper we would like to contribute and examine what factors led to excess returns in the European markets over the 12-year period from 13 June 1999 to 13 June 2011.
The 12-year period included a stock market bubble (1999), two recessions (2001, 2008-2009) and two bear markets (2001-2003, 2007-2009).
Return of 1157.5% over 12 years
We not only tested the historical value of the factors, but where it made sense, we also tested the 5-year average to see if it is a better indicator to use to generate market outperformance.
When we found a factor that showed strong out-performance we tested it together with 13 other ratios and indicators to see if two factors generate even more market outperformance.
What if we told you, we found a simple two-factor method you can use to select investments that led to a 23.5% per year compound return (market was 2.25%) over the 12 years we tested?
That is a total return of 1157.5% compared with the 30.54% the market returned!
This return was generated by a combination of... Here is the link to the book's Amazon page: Quantitative Value Investing in Europe: What Works for Achieving Alpha
Appendix download
The appendix shows you all the tables included in the book. As the tables are hard to read in the Kindle version, we have made them available in PDF form.
Click the PDF link below to download your copy of the appendix:
Quantitative Value Investing in Europe - Appendix
Here are the book's product details at Amazon:
ASIN : B00M8B01EE
Publisher : Philip Vanstraceele & Tim du Toit; 1st edition (July 28, 2014)
Publication date : July 28, 2014
Language : English
File size : 1222 KB
Text-to-Speech : Enabled
Screen Reader : Supported
Enhanced typesetting : Enabled
X-Ray : Not Enabled
Word Wise : Enabled
Print length : 55 pages
Lending : Enabled
Updated 2021-05-07
Best Sellers Rank: #627,169 in Kindle Store (See Top 100 in Kindle Store)
#507 in Stock Market Investing (Kindle Store)
#728 in 90-Minute Business & Money Short Reads
#1,451 in Stock Market Investing (Books)
Customer Reviews: 4.0 out of 5 stars 21 ratings