Quant-Investing.com is a stock screening tool, with the only aim of helping you find market beating investment ideas.
We use it to invest our own money so its a stock screener built BY investors FOR investors.
You can screen over 22,000 companies listed on all the major stock markets worldwide with our unique 4 Funnel tool to find investment ideas that exactly match your investment strategy (value, growth, momentum or whatever).
Or use one of our proven (back-tested) and market beating strategies.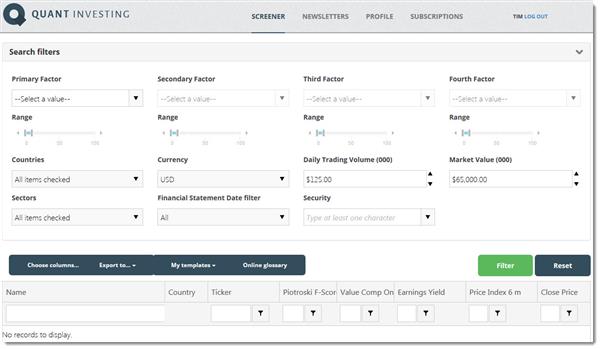 Click image to enlarge
Here are a few screenshots of the screener to give you an idea of how you can use it.
Updated screening grid launched - September 2018
To make it even faster and easier for you to find investment ideas we in September 2018 launched a major software upgrade of the database searching interface.
You can read all about it here: Take the new screener for a test drive
PS To start using the screener right now to find investment ideas what fit your investment strategy sign up right here.
PPS It is so easy to put things off, why not sign up right now?