Yes 2020 was an unusual or tough year, take your pick.
But like you I have learned that feeling like a victim leaves you powerless. That is why the only question you must ask yourself is how can I make great investment returns now?
Yes, I know:
There is no more money to be made getting on the bandwagon of vaccine companies
The Tesla madness continues
There are a lot of zombie companies with too much debt
Large tech companies are facing anti-trust threats
But there are still a lot of great investment opportunities around. I showed you exactly how to find them in the webinar How to find your next double- or triple-digit winner – click on the link to watch a recording.
Find your best investment strategy
If you are unsure if your investment strategy is the right one for you take a look at this article: How to find your best investment strategy – not the one you expect
If you have found a strategy you like you can back test how it would have performed over the past few years. This article shows you exactly how to do it: How to back test your investment strategy - Real world example
Your 80/20 solution
If all this research looks like it will take up too much of your time, or if investing is not your thing, look at our newsletter service.
You can read all about it here: Get Investment Ideas from Only the Best Strategies
Before you think that we suck these investment ideas out of our thumb take a look at this article: This is how we select ideas for the Quant Value investment newsletter.
We work like donkeys each month to give you only the best ideas we can find.
And it works!
Here are the returns generated by the Corona Market Crash portfolio since April 2020: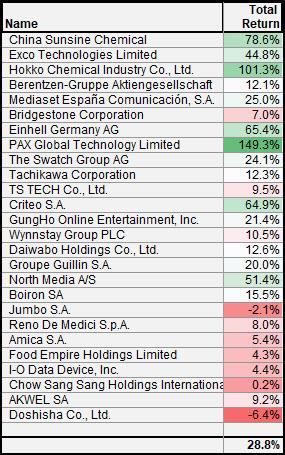 As you can see not all ideas were winners – that is impossible – but overall, with an average return of +28.8% it did very well.
I have tried to keep this as short as possible. So, the only thing left to say is…
Happy holiday and great 2021 returns.
Wishing you all the best
Tim du Toit
Founder and CEO at Quant-Investing
PS Click here to sign up for our stock screener or newsletter service NOW!
PPS It is so easy to put things off and forget, why not sign up right now!
Click here to get started right now