With interest rates around the world at record still very low here are a few investment ideas of companies with a high dividend yield.
As you know not all high dividend yield companies make a good investment, you have to make sure the company can pay the high dividend in future and that is what this list does. It gives you a list of quality companies that have an attractive dividend yield.
How the stock screen was put together
Before I get to the list of companies first some information on how the list was selected.
This is what the screen looks like:

Source: Quant Investing screener



This is what I screened for:
Selected all the main markets in Europe, Scandinavia and North America
Selected companies with a daily traded volume of at least $125,000 and a market value larger than $65 million (you must be able to easily buy the shares)
To select only quality companies, companies with a low gross profit margin were excluded
Also excluded were companies with a Piotroski F-Score of less than 5
The 40% of companies with the highest dividend yield were included
To make sure the dividend is sustainable only companies with a high free cash flow yield and a high dividend cover ratio was selected.


All the above ratios are fully explained on the Glossary page
You can select your own criteria
The above screen is just an example and you can of course set your own criteria when looking for high dividend yield companies.
The first 15 companies
Here is a list of the first 15 companies the screen came up with: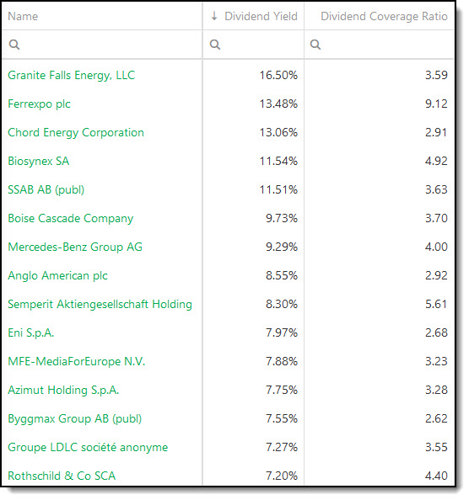 Source: Quant Investing stock screener
Quality dividend yield
As you can see the dividends are not extremely high, this is because of the quality factors included in the screen.
The next 15 companies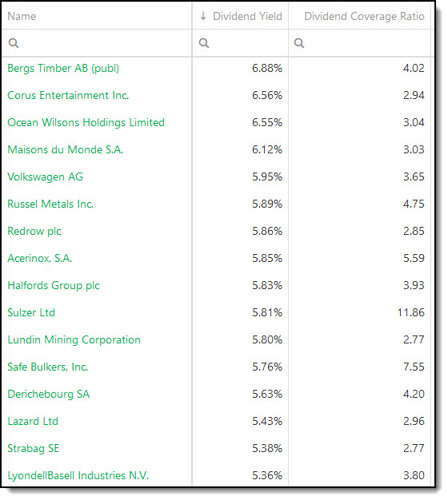 Source: Quant Investing stock screener
Please always do your own research
As with all screens this is just a list of companies. Please do your own research and fact checking to make sure the company is correctly included in the list.
PS To get this high dividend yield strategy working in your portfolio right now click here
PPS Why not sign up right now while it is still fresh in your mind?