This article is a website version of our weekly FREE Best Ideas Newsletter sent on 21.02.2023. Sign up here to get it in your inbox every Tuesday.
As you know the Magic Formula investment strategy was developed by the great hedge fund manager Joel Greenblatt and described in his excellent book called The Little Book that Still Beats the Market.
It is the book that got me started with quantitative investing in 2006.
What the Magic Formula does for you
The Magic Formula helps you find good quality companies that are trading at an attractive price.
It does this by looking for companies with a high earnings yield (companies that are undervalued) and a high return on invested capital (ROIC) (quality companies).
Magic Formula back test
We looked and summarised all the back tests of the Magic Formula we could find (link to the article is below) but we also update a back test every year and that is what we have updated in the article.
Back test results
Here is a summary of the result.
As you can see, like all investment strategies, it does not beat the market every year but over time it performs very well!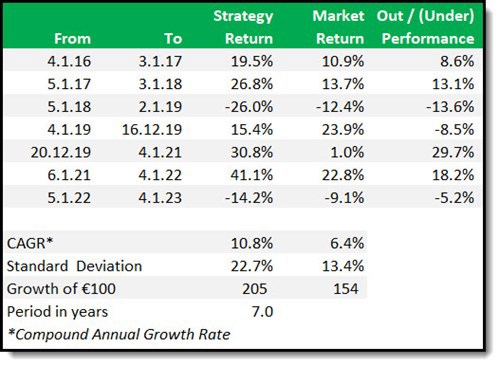 Click here to get all the back test information
Your Magic Formula analyst wishing you profitable investing
PS To find great companies that exactly meet your investment strategy (including the Magic Formula) right now click here.
PPS It is so easy to get distracted and forget, why not sign up now! Before it slips your mind.
Please note:  This website is not associated with Joel Greenblatt and MagicFormulaInvesting.com in any way. Neither Mr Greenblatt nor MagicFormulaInvesting.com has endorsed this website's investment advice, strategy, or products. Investments recommendations on this website are not chosen by Mr. Greenblatt, nor are they based on Mr Greenblatt's proprietary investment model and are not chosen by MagicFormulaInvesting.com. Magic Formula® is a registered trademark of MagicFormulaInvesting.com, which has no connection to this website.