If you are a long-term investor like me I'm sure you also think corrections are good as they provide you with interesting (undervalued) investment ideas.
Momentum is a great idea
If you've read a few of my articles you know that after writing the research paper Quantitative Value Investing in Europe: What works for achieving alpha, I have become a big supporter of using positive momentum as one of the factors you should look for when searching for investment ideas.
A simple idea
The idea behind momentum is simple, once the share price starts going up (numerous research studies have shown) that it will continue to go up.
Your inside source of information
If the markers start turning around do you have a good source of information that tells you when to start buying again?
If not we have put something together that will help you.
We have put together a table, of all the world main markets, where you can quickly see market momentum over the short medium and long-term.
Know when you can buy again
If you see that the main markets have started moving up over one, two and three months you can be relatively sure that the time has come for you to start buying again.
We can you find it
You can find the market trend dashboard here: Market dashboard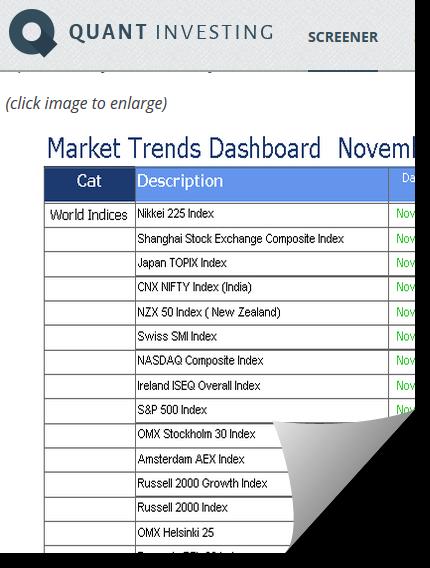 Click image to go to dashboard



 Also a market sector momentum indicator
We have also added a market sector momentum dashboard you can use to identify what sectors of the market (utilities, REIT's, financial and bonds) are doing in terms of momentum.
We called this tool the Tactical Asset Allocation dashboard and it can help you to choose what market sector is moving up or down at the moment.
You can find it here: Tactical Asset Allocation Dashboard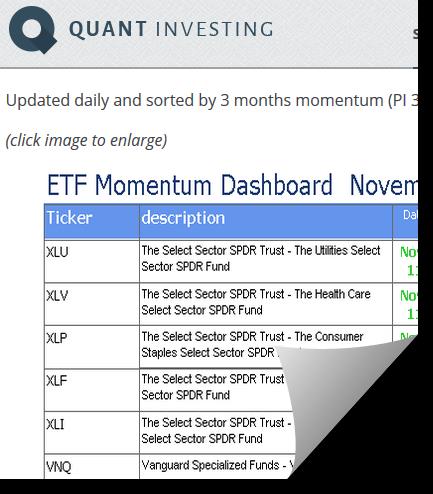 Click image to go to dashboard

 
How to use it
If momentum changes (either up or down) you will see it first in short term momentum (PI 1 month), and if the trend continues you will see it confirmed by medium (PI 2 months) and long term momentum (PI 3-6 month).
PI = Price Index
Remember to watch short term momentum carefully as it can change direction quickly and it is not uncommon to see several months of momentum reversed in a short period of time.
Look below the table
A full description of exactly what the dashboards tell you are shown below the tables.
Check back often
The table is updated every Monday morning so check back often.
PS To get access to all these indicators right away sign up here
PPS It is so easy to put things off, why not sign up right now before you forget?