Here is great ratio that can help you find quality companies (companies with a moat) that generate a consistent high return on invested capital (ROIC).
The key to this ratio is consistency as it lets you select companies that had a stable ROIC over the past five years.
How is it calculated?
In the screener the ratio is called ROIC Quality and is calculated as follows:
ROIC Quality = 5 year average Return on Invested Capital (ROIC) / Standard Deviation of the 5 year ROIC.
Five year average Return on invested Capital (ROIC) is calculated as Five year average EBIT / Five year average ((Net working capital) + Net Fixed Assets).
Higher is better
The higher the ROIC Quality ratio the more stable is the company's return on invested capital (ROIC).
Best used with other ratios
Because the ROIC Quality ratio only tells you how stable a company's ROIC is you have to use either ROIC or five year average ROIC if you want to select companies that also have a high ROIC.
Where can you find it
You can select ROIC Quality either as a Primary ratio in your screen.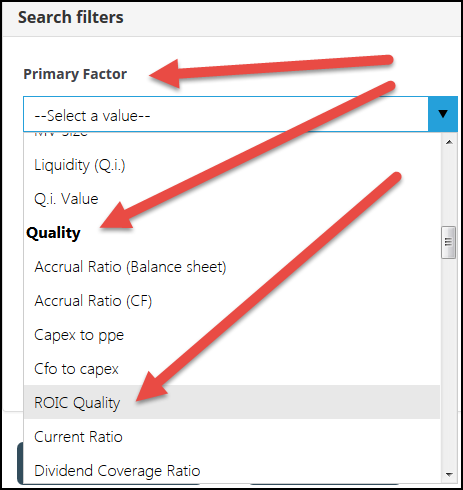 Or you can select it as one of the output columns of your screen. You can then use the filter function (click on the small funnel icon) to further refine your search.
Remember a high value is better because a low ROIC Quality value means the company's ROIC is more volatile (up and down).
PS To start using the ROIC Quality ratio to find investment ideas for your portfolio sign up here.
PPS Why not sign up right now before it slips your mind?