The Capex to Property, Plant & Equipment (PPE) ratio tells you how capital intensive a company is.
It is calculated as follows: Capex on PPE  = Capital Expenditure (Capex) / Property, Plant and Equipment (PPE)
Companies with high ratios have to invest more cash flow in capital expenditure which means that there is less cash available to pay out to shareholders.
This may not be a problem if the company can earn a high return on the extra money it invests. But if the return is low the company's share price will most likely not perform well.
More information
You can read more about all the red flag ratios in the screener here: Ignore these red flag ratios if you want lower returns
Where to find it in the screener?
In the Quant Investing screener you can use Capex to PPE ratio as a screening ratio or as an output column in the results of your screen where you can use the filter function (click the small funnel icon) to screen out companies with a bad or high Capex to PPE ratio.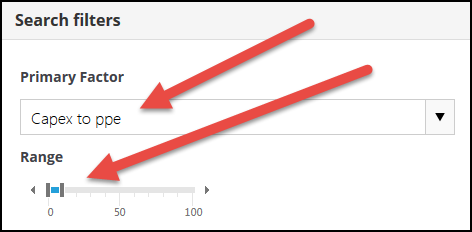 Capex to PPE as a primary screening factor
PS To start using this ratio to avoid capital intensive companies sigh up right here.
PPS It is so easy to put things off why not sign up right now?