You know high dividend yield companies make good investments. But how do you find the best (quality) high dividend yield companies in the markets you invest, you may be thinking.
Also how can you make sure the companies can continue to pay the high dividend in future?
The answer to your dividend investing questions
We have put together a tool you can use to find high dividend yield companies from New Zealand to North America which includes about 22,000 companies.
You can thus cast your dividend investing net as wide, or as narrow, as you like. 
How looking at past high dividend payments helps your current investments
The tool also lets you look at how the company's dividend has grown over the past 3 to 10 years. This allows you to search for companies that have high dividend growth.
These companies can give you much higher returns compared to if you invest in companies that have a stable or even declining dividend.
What about dividend quality?
The tool can also help you to identify quality high dividend yield companies (dividend aristocrats); this means companies that can continue to pay the high dividend you expect them to pay.
To make sure the high dividend yield is sustainable you can, for example:
Only search for companies with a high free cash flow yield (has high cash profits compared to sales), this makes sure the high dividend yield company has the cash to continue paying the high dividend.
Select companies with a high dividend cover ratio. This ratio makes sure the company's profits are higher than the dividend it pays. This is important because only if profits are higher than dividends can a company continue paying its high dividend.
Exclude companies not in good financial shape through an indicator, already calculated for you, called a Piotroski F-Score. If you exclude companies with an F-Score of less than 6 you can be sure that you will not be investing in companies that are financially not healthy.
Choose only companies with a low amount of debt to capital or debt to free cash flow.
Further refine your search with using the more than 110 ratios and indicators included in the tool.
I want to find Quality high Dividend Yield companies, sign me up!
High dividend yield investment screen example

Click to enlarge
Examples of ratios you can use to search for dividend investment ideas


Really easy to use
Also the tool is really easy to set up and use.
You can save all of your searches which mean you can repeat your searches as often as you like with a few easy mouse clicks.
Everything you have saved is automatically completed for you.
To make it even easier for you we have already saved a few high dividend yield searches for you which you can load and change to exactly meet your investment needs.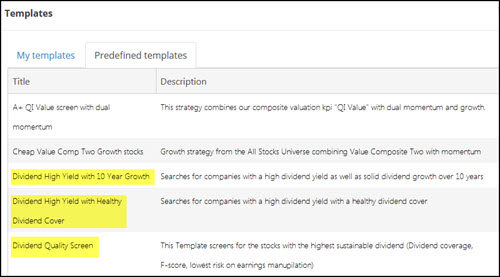 Click image to enlarge
Searches already created for you. You can of course create and save as many as you like.


I want to find high dividend ideas, sign me up!
All this costs less than a lunch for two
How much can a tool like this cost, you may be thinking?
To make it affordable, and give you a great return on your investment even with a small portfolio we have set the price of the tool surprisingly low.
It costs less than an inexpensive lunch for two each month (Click here to sign up).
PS: Why not sign up now, while this is fresh in your mind?
I want to find Quality High Dividend Yield companies NOW, sign me up!