Find companies that EXACTLY fit your investment strategy
The Quant Investing stock screener is built so you can find investment ideas using just about any investment strategy you can think of.
Whether you are a:
Growth,
Value,
Magic Formula
Short term momentum,
Smart Beta
Net Net
Dividend
Low volatility
investor the screener has what you need!
What makes this screener better?
What makes this screener different or better than the one I already use, you may be thinking.
Four filters!
The first thing you will notice when you use the screener are the four filters (or funnels) that look like this:

Click image to enlarge
You simply select up to four ratios and then use the range slider to choose the range of companies you want to include (in 10% increments).
How the filters work ?
The image below gives you an example of how easy it is to screen using four filters: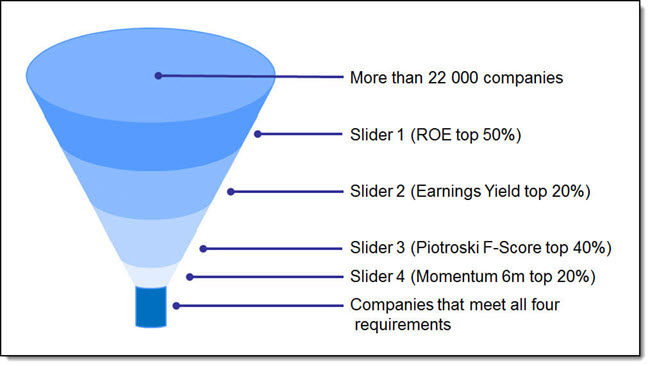 Click image to enlarge
Do your own back tests
The four filters lets you quickly find investment ideas using up to date prices and fundamental data. But you can also go back in time to test your investment strategy.
The screener's historical point-in-time database lets you make sure your investment strategy works. The back testing function is very easy to use. You simply save a screen and use it to get investment ideas in the past.
Screenshots
Here you can see screenshots of exactly how the screener can help you find investment ideas: Stock screener screenshots
I'm interested, I want to sign up!
 VIDEO - How to set up your first screen
This 4 minute video gives shows how easy it is to set up your first screen: 
What do investors just like you say?
Before I tell you more about the screener here is what investors just like you say about the screener.
"Your service is great! I'm an advisor and looked into using Refinitiv's Eikon for around $5k a year until I discovered your service. I especially like that you take the latest factor research and provide pre-made formulas."
"I think the Quant Investing screener's best feature is the wide range of countries that can be screened, if you are looking for a screener that covers the majority of the world's stock markets then this is the best and most cost effective one. Additionally, the blog has some really interesting articles that have improved my investing strategy."
"I have found the screener most useful for preparing searches for specific strategies. As far as investment ideas are concerned, I group watchlists into themes or via credibility of information (i.e. if stocks are well researched by reputable sources), or by national groupings of investment viability of specific markets. We intend to use the screener for a longer-term type of holdings."
"I wanted to implement a simple, passive, and quantitative investment strategy. As a business owner I don't have much time for analysing stocks and reports. The Screener (and the articles on the website) helped me to find and refine my strategy. With the screener I have all the ratios and data available I need to implement this strategy. Being able to save my strategies in the screener makes life pretty simple for me."
"The Quant Investing screener is worth the money 100-fold. It finally provides the much-needed bridge between an intuitive UI and the necessary depth to engage in serious stock screening & research. The multitude of different rations & factors - some of which are automatically calculated - have been a tremendous help in constructing investment strategies yielding maximum risk-adjusted returns."
"As a fundamental private investor, I apply a 2-step investment strategy. First, I am continuously searching for strong new investment candidates that meet a broad range of financial criteria. Then I try to assess the unique value proposition of each selected candidate. All together a very time and energy consuming process. The Quant Investing screener, combined with its built-in excel download feature, fully automates the first step of my selection process. Therefore, it is a tremendous time saver for me. Day after day."
"I am a long-term value investor who has been strongly influenced by Joel Greenblatt and his 'Magic Formula. The only problem is that I had difficulty knowing how to make the best selections from the Magic Formula website. I tried a variety of different screeners with mixed results. Then I stumbled across the Quant Investing screener while searching online. At first, I was a bit overwhelming to learn about all the different ratios and figure out how to use them. But as I scoured over the glossary and experimented with different screens, I realized how powerful this tool is. I have not found another screener that comes close to the Quant Investing screener and believe that this tool has been a huge step forward in tilting the investing table in my favor."
"Tim, when I first read your paper "Quantitative Value Investing in Europe - What works for achieving alpha" back in 2012, I must admit I was sceptic. It looked to me as a fine and well documented paper… about attractive but theoretical returns you could have achieved if you HAD followed the strategies described in it. But I was disappointed in the returns well paid "professional" money advisers achieved with my money (mostly bankers who only thought of their own pockets promoting their own funds). So I decided to give it a try and started using your screener to select stocks for my portfolio and it turned out to be by far the best financial decision I have ever made in my life! It really comes close to the theoretical returns you exposed in your paper and it beats well known market indices all the time. If you had told me this in 2011, I would not have believed it. I admit 5 years is a relative short period to make some definitive conclusions and in general the stock market was in the last 5 years not to bad either. However, I already have enough confidence in your screener to stay true – even in falling markets - to my system of selecting stocks. In short, what I mean to say is: your screener is really important for me as a base for selecting stocks for our financial future.  Keep up the good work and thanks for sharing your insights on investing through your paper, your blogs and newsletters."
"The Quant Investing screener gave me access to specific search fields that I couldn't find with other screeners.  This saved me a lot of work on an ongoing basis and allowed me to create the portfolios I was aiming for. Also, Tim is extremely helpful and accessible for questions and suggestions on the screener and investment criteria selection."
"I wanted to find an investment strategy for the long term which fitted my personal goals and milestones.  The Quant Investing screener identified such a strategy for me in an easy and straightforward way. I will continue to use the screener to rebalance my portfolio and reassess my investment aims in the future."
"The Quant Investing screener became my most important tool for analysing stock listed companies. It`s an incredible powerful tool but very easy to use. I simply love it."
"The Quant Investing Screener expanded my market perspective and provided easily assessable hard data with which to test investment theory."
"The screener has simplified my life. I can select stocks choosing many different variables and follow my investing system that provided me with 20% profitability the last year (2017)"
"The screener helps me take my investment process to a completely new level. The possibility to export the data for further analysis is a great bonus feature. I also really appreciate that the screener is constantly developed based on user feedback"
"Tim, I would like to thank you for the fantastic database that you are providing. For quite a while I had been fascinated and captured by quantitative investing, but as a private investor I never have had access to a powerful database. It was difficult for me to find good investment opportunities. When I started to use the screener of quant-investing when my performance started to boost tremendously. I now do have the possibility to search for and to get a very quick view of the key figures that really count for an asset. Actually, the biggest risk of my future performance is probably not to have access to such a database. At first glance, perhaps, the price of the screener is not cheap, but the potential investments that I find with the screener definitely are! It's a fair deal and the rewards are definitely worth the price."
"I have been using the Quant investing screener to trade stocks in the USA using O'Shaughnessy's methods. The screener is so simple to use it takes less than 5 minutes to find which stocks I want to trade. The screener is reliable, and the results are consistent with back testing results. So far this year I am up 15%. I like to understand the details of trading systems and Tim has been fantastic at explaining how each screener works. He responds to emails within the day and he really wants to help. I have also found the new systems that Tim tests to be really helpful. I have since added one of these systems to my portfolio. I highly recommend Tim and his Quant Investing screener."
"Thanks for the great scanner. It is even more powerful than I expected and based on my experience with it in the last few days it allows me to find potentially undervalued stocks that I would not have been able to find with free scanners or Google searches. I decided to use your scanner because: The customer statements were all enthusiastic. You have more parameters to refine the search. You always made it clear what the sources of your methodologies were that you implemented in the scanner."
"The Quant Investing screener is, in my opinion, the best equity screener available to the retail investor like myself. Using the strategies recommended by the website, I have achieved market-beating returns that even professional investors would be proud of. The screener covers dozens of the major markets around the world, and you have access to a wide array of quantitative metrics to help inform your decision. In addition, Tim and his staff are very responsive to queries and are always willing to accommodate requests. So, in summary, very highly recommended and well worth the subscription!"
Companies you can screen for - more than 22 000
All the companies registered in the following countries are included in the screener: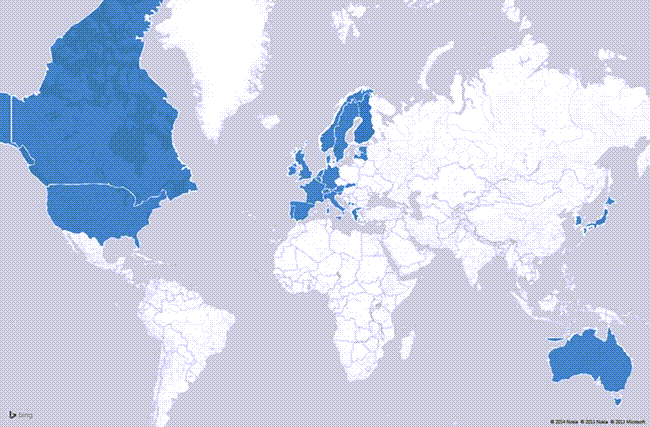 Click image to enlarge
The screener includes all companies listed on the developed stock markets worldwide, over 22,000 companies in total. Not just large companies but ALL companies are included, right down to the smallest.

We invest our own money using the screener, and just like you, we want to be able to search the largest possible number of companies (incl. smallest) to find ideas.
Countries included
More specifically the screener includes all companies traded on the following markets:
Europe:
All the major markets including, Switzerland, Scandinavia, the UK (incl. AIM companies)
North America:
The USA, Canada
Asia:
Japan, Hong Kong, Singapore, South Korea, New Zealand, Malaysia and Australia
Here you can see a: Full list of countries included in the screener
More than 110 Ratios and indicators you can use
The Glossary page shows you all the ratios and indicators you can use to find investment ideas.  
Strategies you can use right away
We have also saved over 17 well known (back tested) investment strategies for you. This means you can use them immediately, with a few mouse clicks, to find ideas.

Examples of saved strategies:
Earnings yield (EBIT to Enterprise value)
O' Shaughnessy - Tiny Titans
ERP5 Score (an indicator developed by Vanstraceele-Allaeys that gives you undervalued, good quality companies)
I'm interested, sign me up NOW!
Cost less than a lunch for two
All this costs less than an inexpensive lunch for two each month
How does it work?
To find out just how easy it is to use the screener take a look at the two quick start guides below (simply click on the links below):
Here are your downloads:
Quick tips to get the most out of your stock screener subscription