Get Investment Ideas From ONLY the Best Strategies
Get those double and triple digit gains you know are possible
Dear Fellow Investor
Do you want market beating returns but don't want to spend hours or days searching and analysing companies?
Then the Quant Value investment newsletter is what you have been looking for.
6 market beating ideas each month
Every month we send you to up to six investment ideas of the most undervalued companies in Europe (incl. Switzerland, Scandinavia and the UK), Asia and North America that have the best chance of substantially outperforming the market.
We get these ideas from the best investment strategies we have developed, and backtests we do all the time – but more on that later. 
Why up to 6 ideas?
Why do we say "up to 6 ideas" you may be thinking?
We will only recommend a company if we think it has a very high chance of giving you a great market beating return. 
If we cannot find six investment ideas that can do this for you we recommend less. The reason is simple we want to give you great returns not recommend a lot of companies. 
We would rather lose you as a subscriber than recommend bad ideas. 
Highest returns in the least amount of time (half an hour per month)
The newsletter saves you time and helps you to quickly build up a diversified, high performance, undervalued investment portfolio. 
All you need to do is log into your brokerage account (or call your broker) and follow the easy to understand instructions (they are all on the first page). 
This means managing your own successful portfolio won't take you more than half an hour per month.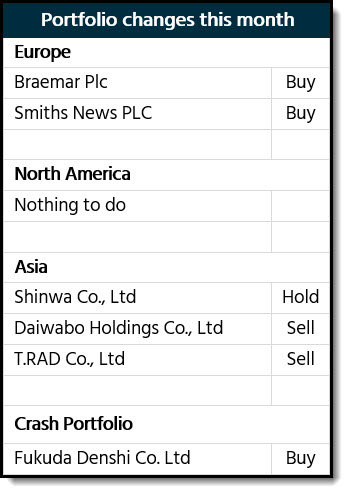 Front page Buy and Sell recommendations - example
Model portfolio, Europe and North America
When you subscribe you immediately get access to the model portfolio that gives you investment ideas from the following world regions:
Europe - companies from Europe (incl. Switzerland, Scandinavia and the UK)
North America - companies from Canada and the USA
Asia - companies from Australia, New Zealand, Hong Kong, Japan, Singapore
This means you can immediately start building your own high return portfolio.
What do other investors just like you say?
Before I tell you more about the newsletter this is what investors just like you say about the Quant Value investment newsletter.
"After years of procrastination and being overwhelmed, the Quant Value newsletter gave me the tools to start investing in the stock market. The newsletter, which I eagerly await each month, and regular emails are digestible and educational to the lay person. The investment ideas are explained concisely and I usually try to make my purchases (or sales) on the same day of the newsletter. I also appreciate the transparency of the idea recommendation process. My best performing recommended idea so far is Jumbo SA which has grown by 46% in 4 months. I coincidentally recommended the Quant Value newsletter to a friend today."
"I receive at least ten different financial newsletters in my inbox every day, but Quant-Investing is the only one I read with pleasure. Unlike most other newsletters out there, Tim de Toit keeps it simple, didactic, honest, and, most importantly, panic-free. It's exactly what we all need to get the fantastic financial results we want, minus the nail-biting stress that usually comes along with it. His newsletter seems too good to be true, but I've done my homework and I can tell you that is not clickbait, it's not a pump-and-dump scheme, it is simply that rare thing which is an intelligent person of integrity trying to help others while making a living."
"The Quant Value newsletter is one of my best investments because it saved me endless time in searching quality investment ideas and 8 out of 8 investment ideas that I've implemented in my portfolio so far are all profitable. Thank you, Tim, for all of your hard work!"
"The Quant Value newsletter regularly finds me a selection of sound, profitable companies in which to invest. It also advises me when to sell if those companies no longer meet its investment criteria. I have tried a number of investment newsletters but have yet to find another as good as Quant Value."
"It's a little bit difficult to calculate the accurate return of the last 12 months, because I made several investments on an irregular basis in that period. But I estimate that the return must be round about 30% p.a. In absolute figures I made €60,000 (50% already realised). For me this constitutes a high amount (equals 35% of my available cash), and this shows how I trust your work."
"The Quant Newsletter has offered me valuable investment opportunities that I would have otherwise, not being able to source due to daily time constraints. Thanks to Quant Value, I can make qualified and researched investment decisions at the click of a button. Quant Value has given me the tools to also do my own research in enhancing my portfolio's performance."
"Thanks to the Quant Value newsletter my returns over the past 4 years have comfortably beaten the market."
"The Quant Value newsletter has helped me find interesting and profitable investments ideas I would otherwise never have found."
"The Quant Value Newsletter often presents stocks with chances of price advance far over average (means over 50%)."
"If I had to go to that famous desert island.... this is the investment newsletter I would decide to receive. Dedication time is close to zero, results are the best you can get."
"I have been investing in equities for quite some time. What I like about Tim´s Investment Newsletter is that he turns my attention away from my trodden paths to different sectors and markets. It enhances my understanding of global markets and thus provides me with excellent ideas. I wouldn´t want to miss it."
"As a long-term investor value, I have found the ideal newsletter. As investor in European Markets, the newsletter Quant-Investing Value has helped me to add new successful investments in my own portfolio. On the other hand, I have managed to improve my own selection of investments and increase the profitability of the entire portfolio."
"Tim's service has opened an easy way to access well-priced and under-bought small caps for me. Tim's newsletter is easy-to-read and implement and looks to be a systematic way of targeting nice returns."
"The newsletter has helped me to get very interesting ideas that outperform the market."
We won't waste your time
The newsletter won't waste your time telling you what the market has done, or what it is going to do - nobody knows that. 
All our work goes into finding and researching companies using the market beating investment strategy we have developed over more than 20 years of extensive testing and investing in the real world.
Don't take our word for it
We of course do not expect you to just take our word that the model we use to select investments works.
When you subscribe you get a free copy of the book we wrote on which the newsletter's investment model is based called "What Works on European Markets – The Best Performing Investment Strategies".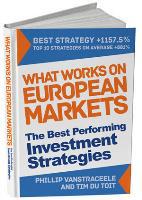 The title is dull but what we found was VERY profitable.
1157.5% over 12 years
In the book you will see the 168 investment strategies we tested to find the best strategy that returned 1157.5% over 12 years. 
The investment model is based on this and the top 10 strategies (average return 881% over 12 years), as well as new research we do all the time.
The reason the investment model uses a number of strategies is because no one strategy beats the market all the time. This gives your portfolio a high probability of giving you high returns all the time.
Also works in the real world
The model is of course not only based on back tested theoretical returns. As you can see below subscribers have made good profits from the newsletter's great (real world) track record.
Here is a summary of the newsletter's returns: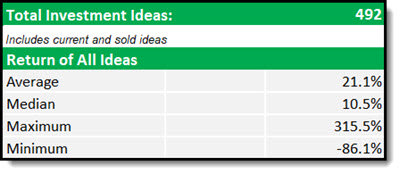 Average return of all recommendations (up till 31 December 2022)

Loss of 86.1% occurred before the Stop Loss system was implemented
Returns are calculated as price change plus dividends in the currency
of the company's main listing.

The stop-loss system REALLY works
And the newsletter's strict stop loss system works. Since March 2015 when it was implemented only 10 of the 492 (2%) ideas lost more than 30%.
This happened because of large sudden price drops. For example, after a severe profit warning, stock suspension or fraud announcement.
So the newsletter gives you great returns, while keeping your losses low.
Return of all investment ideas
The following chart shows you the returns of all the ideas recommended in the newsletter:
Click to enlarge


What this chart shows you is that 61%, nearly two third of all ideas, would have given you a positive return, with the highest return of 315.5% (the second highest was +269.2%).
Results have been great
As you can see results have been great!
Here are a few of the best returns you could have earned:
Pandora A/S   +173.1%
Reply SPA   +269.2% 
MGI Coutier SA   +239.1%
Montupet SA   +315.5%
Linedata          +157.1%
Delclima        +92.4%
Dart Group     +84.1%
CropEnergies   +75.9%
Groupe Crit     +75.2%
Assystem      +82.7%
We are of course not always right
You have also seen there were a few ideas that have not done well (you know that you cannot win them all) but they have been in the minority.
No questions asked stop loss strategy
This is because losses are kept low by the very strict 20% trailing stop-loss strategy the newsletter follows. 
As soon as a price falls more than 20% from its high it is sold - no questions asked.
Stop buying if the markets are falling
To further keep your losses low the newsletter stops buying when markets are falling. This may sound like a simple idea but hardly anyone does this.
This is how it works
I am sure before you invest your hard-earned money in ideas from the newsletter you want to know exactly how it is done. 
I would if I were in your shoes. 
That is exactly what the following two flow charts show you.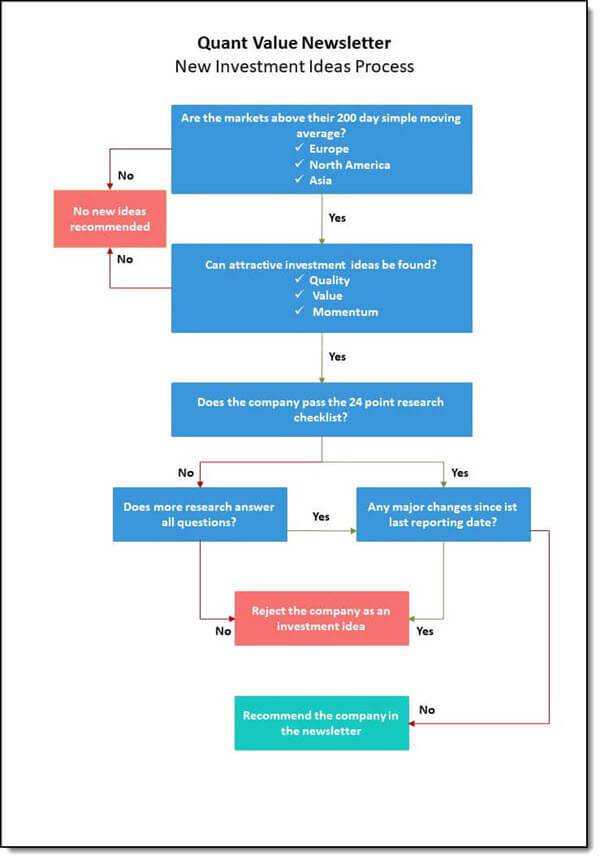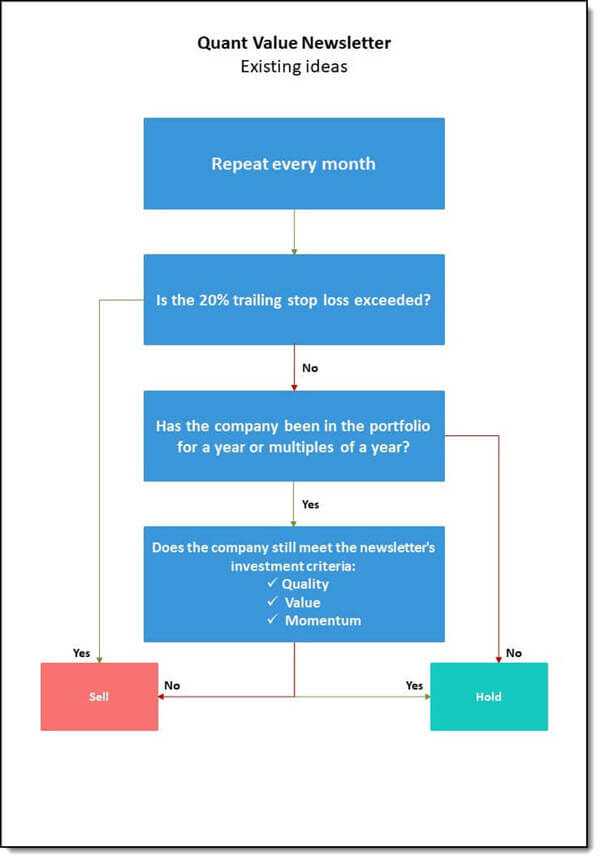 Click images to enlarge
Maximum of 400 subscribers
Because the newsletter recommends smaller companies (research has proven they give you the highest returns) the total number of subscribers is limited to 400. We do this to make sure you can buy and sell easily and without moving the company's share price. 
This means as soon as 400 investors have signed up new subscribers will only be accepted when an existing subscriber leaves. 
So do not hesitate to sign up right now as the newsletter may be closed to new subscribers at any time.
Only thing left for you to do
We have showed you exactly why and how the Quant Value newsletter outperforms the market, the only thing left to get these market beating ideas working in your portfolio is to take a few minutes and subscribe.
It costs less than an inexpensive lunch for two and if you do not like it you get all your money back – no questions asked.

PS Why not sign up right now while it's still fresh in your mind.